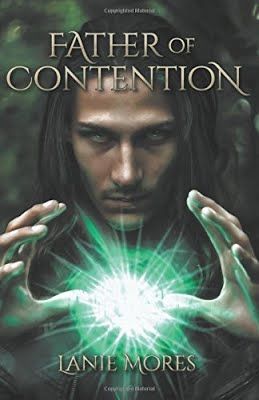 Science Fiction and Fantasy, Paranormal Romance
Date Published:
April 9, 2018
Publisher: Tellwell Talent
There was only ever meant to be one Creator.
In 1972, German scientist Renner Scholz travels to Barbora Bay, Washington where he meets the love of his life, Milena Nowak. Only believing in things proven by science, he becomes obsessed with determining the underlying genetic basis of Milena's psychic gift.
Stumbling upon an occult ritual, Renner is connected to the spiritual realm where he discovers an unrivaled power that fuels supernatural abilities. But, the answers he's been searching for come at a cost—his soul.
Driven by new darkness that resides within him, Renner has a breakthrough in his research—able to genetically produce psychic abilities in humans. Milena helplessly watches as her husband becomes deceptive, volatile and both physically and mentally more powerful. Can Milena save Renner from this evil presence? Or will she become an unwilling participant in his next experiment—one of the darkest kinds?
Renner was wracked with an emotion he hadn't experienced in a while—guilt. The sensation was pushing past a barrier, fighting for him to notice.
How could he have done that to Milena? He loved her. She was his wife. His beloved. He hadn't meant to explode, lose control of himself, and even now was having trouble remembering all that had happened, parts of his memory missing. But he knew he had hurt her. Her blood had stained his knuckles.
Of course, his day had already been going badly. There was that.
First, catching Paul rummaging through his lab files. Problem number one.
The second problem—the catalyst to his fury—was the interrogation by his boss and the policemen. Renner felt he handled himself well, shirking suspicion from his shoulders. But, the meeting rattled him.
Renner couldn't manage to calm down after that, unable to focus on his work, his mind completely distracted by Paul's betrayal and the pending investigation. He ducked out early, wanting to go home and plan a way to get Paul off of his back. Just needing a drink to settle his nerves. A few minutes to himself. But, Milena just wouldn't leave him alone.
She provoked you. It's all her fault.
What the voice said was true. Stuck her nose in where it didn't belong. Pressing and pressing. Problem number three. And hadn't he asked her nicely to give him some space? If she had just listened, none of this would have happened. But, had she deserved what he had done to her?
Yes, she did deserve it. You did what you had to do. She was going to leave you.
But, he had reacted as his biological father would have. Where had that anger, that violence, come from? Never in a million years would he have thought he was capable of that depth of aggression. Milena was helpless against his fury.
I love her, he thought. I honestly do. How could I do that to her?
Would it have been better if you let her go? You need her, remember? She can't leave. Not now, not ever.
It was true. He could never live without her. And he also needed her for his research. She was essential to his plans, and even though up until now he had gained her compliance through his elaborate ruse to fake her illness, he would not have to trick her anymore. Everything was much easier this way.
Slowly, his guilt—assuaged by the voice in his mind—abated, and his focus on the prize returned. The timing was actually opportune; did Milena's last set of blood tests not tell him so? All of his preparations were leading to this point. She was finally ready.
Lanie Mores resides in Ontario with her family, although she enjoys traveling to alternate realities through reading, binge-watching Netflix or playing video games.
She has worn many hats throughout her life: cashier, medical records secretary, psychotherapist, hypnotherapist, personal trainer, mom and now author.
Inspired to write by Stephen King, Diana Gabaldon, Jean M. Auel, and Margaret Atwood, Lanie works diligently to complete her four-part FATHER OF CONTENTION series.
With her writing, Lanie hopes to inspire her readers to think and live outside the box, to be courageous in following their own passions, and live a life of purpose.