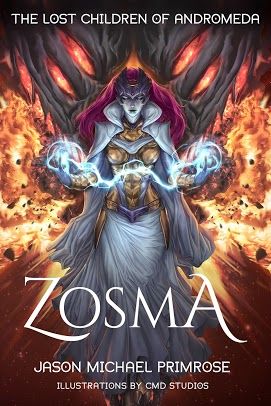 Date Published:
November 1, 2018
Zosma opens the series on Earth in 2052 A.D. as Allister Adams, a young superhuman, begins his search for the planet's possible savior: Zosma Caster. Zosma is an intergalactic refugee and the vessel for an otherworldly energy source from the Andromeda Galaxy. The rogue organization C20 has been interested in Zosma's power, but are its intentions entirely pure? Allister's search for an alien becomes a search for truth as the walls, literally and figuratively, are closing in.
Review
This world was insane. There was so much imagination used. Superhumans, Aliens, battles, a society at odds. It definitely has a lot of different aspects thrown together and the author needed to be able to meld them in a way that they "fit". I think that was executed.
There is a lot to follow along with in this book as you are following multiple characters in different settings. The way the author makes this happen is by not having POV's. The one thing I wanted more of, was a feeling of different characters even through the narrative. I didn't feel like they each stood out from each other. Interestingly enough, Allister wasn't the character who I was most connected to in the story. I felt like there were others who shined brighter.
You will need to be in the right frame of mind to start this one. It isn't cut and dry and you could get confused by the different organizations, species, characters. I think this one makes you put a little more effort into what you are reading, its not just fluff. A unique piece of writing.
Jason Michael Primrose has been creating alternate worlds and characters since childhood. For nearly ten years, he has used his unique storytelling gift to impact the entertainment, fashion, and tech consumer product industries. His experience spans brand strategy, creative direction, retail merchandising, and influencer/celebrity partnerships.