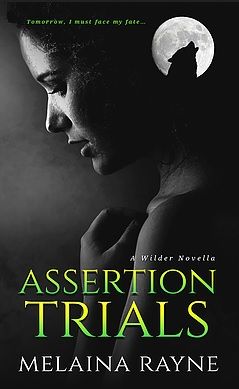 Date Published:
August 6, 2019
I am Shala Wilder. It is time for my coming-of-age celebration. Eligible males from every wolf pack have come to compete in the brutal trials of the Assertion.
When all is over, the victor will claim me as his companion. The problem? My heart isn't set on a competitor, but on an off-limits guard who has no interest in me.
What fate awaits me at the end of the trials? Will I fulfill my duty as obedient pack member, or will I forge my own path?
"Shala Wilder, get your skinny ass down here right now!"
My heart sank at the sound of Nettie's frustrated tone. I knew she'd come looking for me when she realized I wasn't in bed, but I didn't think it would be so soon. I barely had time to get comfortable on my little perch, no chance to calm my frazzled nerves. My anxiety over the coming events was still too raw. I needed more time alone, but I wouldn't get it.
"I mean it, girl. I know you're up there. Don't make me come get you."
We both knew she couldn't climb the thirty feet up to my little ledge. Still, I was in big trouble if I didn't at least answer her.
Shifting onto my belly, I peered nervously over the edge to find her standing with her hands on her hips, her foot tapping out an impatient rhythm. That was just like her, always looking so stern and serious. She didn't have a fun bone in her body. At least, not since I'd known her. She was a no-nonsense kind of woman. She didn't have time for games, but no matter how harsh she could be, the woman loved us all fiercely.
"I'm just staring at the stars, Nettie," I called down to her. "Don't have a pup."
Her wrinkled face pulled into a tight scowl. "I am well beyond my birthing years, girl. There'll be no more heathen pups for me."
I rolled my eyes. She'd missed the point. Again. Sometimes, I couldn't help thinking she did it on purpose.
From behind Nettie, Rendall stepped into the open, her short cap of pale hair gleaming silver in the moonlight. "You should be sleeping, Shala. You'll need the rest for your big day tomorrow."
I flopped onto my back again, letting out a short puff of air. "I can't sleep. I'm too nervous."
My twentieth birthday—the beginning of my adult life—was only a few hours away and sleep refused to come to me. Anxiety and worry made it impossible. Not only had ten years passed since I last saw my parents, but the next few days held unknown things for me.
Over the course of my stay in the mountain stronghold, I endured the emergence of my wolf, struggled to get control of her, and mastered the art of shifting with ease and deftness. Still, I had my misgivings about the changes I faced in the coming days.
"Come down and I'll make you some tea," Rendall offered.
"I don't want tea," I grumbled. "I want to stare at the stars until my eyes cross and I fall asleep from sheer exhaustion."
A small silence followed my confession before Rendall pressed. "Come now, Shala. Nettie may not come get you, but I will."
The stiff tone in Rendall's voice told me all I needed to know. She was usually one of the gentler elderwomen, but she was a good climber. If she came after me, I'd likely be thrown from the low cliff.
With great reluctance, I joined the two women and walked silently between them all the way back to the village. Nettie said goodnight once we reached the main hall, leaving me to follow Rendall to the kitchen.
Melaina Rayne is author of The Jagara Series, Warriors of Lykarthia series, and Assertion Trials: a Wilder novella. She's a sucker for a down-and-dirty romance whether it's paranormal, fantasy, or contemporary. She wholeheartedly believes a great love story transcends the boundaries of genre. But, as much as she loves reading, she especially loves to write stories of beastly men, headstrong women, and the untamable passion that always draws them together.