Children of the Glaring Dawn, Book 1
Published Date: November 19, 2019
Publisher: INtense Publications LLC
Ihva is horrified to find out she might be the most dreaded individual in all of Gant, but before she can discover the truth, she is whisked away on a rescue mission. Prince Jasper's fiancee has gone missing. As they chase his betrothed all over the continent, Jasper is hiding secrets of his own, and he's willing to risk his life to keep them. Is Ihva the feared harbinger of the world's doom? Will Jasper find a way to save his bride and his kingdom? Only time will tell the answers, and then it might be too late.
Review
What a Neat Cover! There is something to be said for simple and clean yet full of life and this book cover is all of that. You know what, so is the writing inside. I feel like Lauren C. Sergeant manages to not overdo anything in this book, she gives the readers just enough to have them hanging on her every word.
I like it when scenes like that feel real. I was surprised at how fresh and how many surprises there were in this story. What a wonderful job of keeping the reader invested in the book and its characters to the very end!
About the Author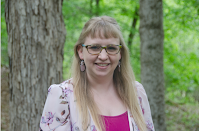 Lauren C. Sergeant is a poet, a founding contributor for the Auburn-Opelika Moms Blog, a writer, and the author of Light of Distant Suns, the first book in the Children of the Glaring Dawn series. Her writing career began in junior high with composing poetry, and by age 26, she started on her first novel. She has always had a passion for fiction as a means of both escape and reconnection to the world around her. Her fascination with world customs, her deep interest in personal relationships, the plethora of spellbinding stories she has read and watched, and her enthusiasm for the fantasy genre combine in wondrous ways in her engaging debut novel. Shaped by these influences, she creates compelling cultures and fascinating, relatable characters in lush imaginary realms.
In her spare time, when she is not writing, you can find her curled up on the couch with a good book, whether it be fantasy, history, physics, or calculus. She lives in Opelika, Alabama with her beloved husband and dear son, though she grew up in Southern California and never imagined calling the American South home.
It seems the unanticipated things in life are sometimes the most delightful, though.